In Bale, 12 km south of Rovinj, our partner agency Amfora is located directly on the main square Trg la Musa. The owners Diana and Cristian Bissi are your contact persons in Istria and will be happy to answer any questions you may have. Diana Bissi speaks Croatian, German and English very well, Christian Bissi speaks English and Italian.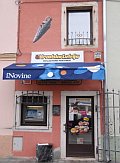 Our guests in Bale can also register here, if this is not done by the landlord. You will then receive a registration form giving you free access to the beaches of San Polo and Colone.
You will also receive information material on bale, souvenirs, local specialities such as wine and truffle products, as well as a small selection of international magazines.
Opening hours: Mon-Sat 07:30 to 13:00 and 15:00 to 19:00, Sun 07:30 to 13:00
Turistička agencija AMFORA - Diana & Cristian Bissi
Trg La Musa 2, 52211 Bale - Valle
Tel: +385 (0) 98 744 535
Web: amfora-turist.hr